Retaining Walls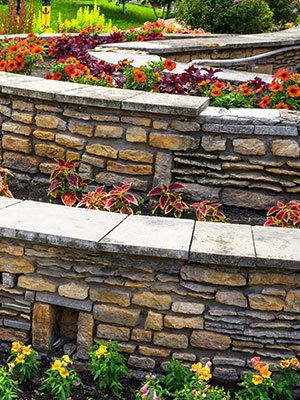 Building harmony between function and aesthetic allure, LUXE Outdoor Living shapes the terrain of your outdoor spaces with expertly designed and crafted retaining walls. These structures are not merely protective barriers; they're strategic, aesthetic elements that enhance and define your outdoor environments.
Structural Elegance Meets Function
Crafting retaining walls demands a precise blend of engineering and design mastery. We conceive walls that stand firmly against the pressures of the earth, safeguarding your landscapes while also adding a refined visual charm. The walls are more than mere barriers; they become aesthetic landmarks that navigate the viewer through the varying levels of your external spaces.
Retaining walls serve multiple critical roles, from preventing soil erosion to managing water runoff and creating level areas within a sloping yard. Our designs encompass all these functional aspects, ensuring that the walls seamlessly integrate into your landscape, offering both practical and visual benefits.
Material Mastery and Design
LUXE Outdoor Living selects materials that echo the natural beauty of the outdoors while ensuring robust stability. From stacked stone and elegant bricks to sturdy concrete blocks, each material is chosen for its durability and aesthetic appeal under the challenging conditions of outdoor settings.
In the realm of design, we explore various styles, from the rustic and traditional to the sleek and contemporary, ensuring the retaining walls are in harmony with your existing architectural and landscape themes.
Terraced Beauty and Layered Landscapes
Retaining walls can magically transform the dimensions of your landscape, creating layered terraces that offer new possibilities for planting and design. Terraced designs not only arrest soil erosion but also introduce a structured aesthetic, converting slopes into a cascade of flat, usable spaces, each with its own potential for unique landscaping opportunities.
Your landscapes evolve into multi-dimensional spaces, each terrace becoming a canvas for planting, creating outdoor living spaces, or introducing new design elements. We leverage the innate beauty and structured aesthetic that terraces provide, enhancing the overall charm and usability of your outdoor area.
Enduring Stability, Ensured Safety
The integrity of retaining walls is paramount. Beyond their visual appeal, they serve a crucial role in maintaining the safety and sustainability of your landscape. Our team employs advanced engineering techniques and meticulous construction methods to ensure that each wall is not only visually stunning but also structurally sound and enduring.
Every project begins with a comprehensive assessment of your land, considering factors like soil type, slope, and drainage to engineer walls that stand resiliently amidst the elements and the pressures of the terrain.
Explore New Dimensions
LUXE Outdoor Living invites you to redefine and enhance your outdoor spaces with retaining walls that blend potent engineering with sophisticated design. Discover new possibilities as we transform slopes and gradients into stunning, usable terraces, each level offering a new opportunity to craft unique outdoor experiences.
Join us in a journey of crafting external spaces that inspire and enchant, ensuring every slope and gradient in your landscape is elegantly utilized, transforming challenges into stunning design opportunities. Together, we will create a cohesive and enchanting outdoor space where every element, from the practical to the aesthetic, is thoughtfully designed and expertly realized.
---
Find the information you need? Then fill out our Free Consultation form and one of our representatives will contact you to discuss your needs. Still have questions? Please do not hesitate to reach out to us. At LUXE Outdoor Living, we are always at your service to address any inquiries or reservations you might hold. For Fastest Service, Call us today at 513-638-1039.