Outdoor Kitchens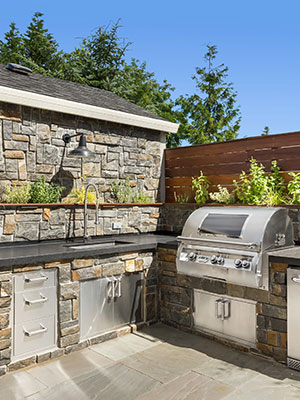 Elevate your outdoor living experiences with LUXE Outdoor Living's distinguished outdoor kitchen creations, where sophistication and function unite to bring your culinary experiences into the open air.
An outdoor kitchen is more than a place to prepare meals; it's a space where culinary artistry meets the serene outdoors, a place to create, entertain, and enjoy nature in its fullness while savoring delightful dishes. Our philosophy centers around designing outdoor kitchens that are a seamless extension of your indoor living spaces, ensuring that functionality and style are present in equal measure.
Custom Outdoor Culinary Spaces
Every culinary enthusiast possesses a unique cooking style and aesthetic preference. Recognizing this, we curate outdoor kitchens that cater to your individual needs, tastes, and spatial requirements. From thoughtful placement of appliances to the choice of materials and layout, every aspect is crafted to enhance your cooking and dining experience amidst nature's backdrop.
The aroma of grilling, the sizzling sounds, and the tantalizing flavors become part of the outdoor ambiance, creating an immersive culinary journey under the open sky. Our custom outdoor kitchens ensure that every ingredient, tool, and appliance is within arm's reach, allowing for a seamless and enjoyable cooking experience.
A Spectrum of Design Possibilities
From classic and rustic designs to contemporary and minimalistic aesthetics, our design palette encompasses a broad spectrum, each creation reflecting the distinctive tastes of its owner.
We harmoniously blend various elements like countertops, cabinetry, grills, and storage spaces, ensuring they resonate with the surrounding landscape and architecture. Your outdoor kitchen becomes not merely a functional space but also a visual masterpiece that enhances the aesthetic appeal of your outdoor living area.
Prioritizing Durability and Quality
Selecting materials that resist the outdoor elements while maintaining their allure is pivotal. Our commitment to using only the highest-quality, weather-resistant materials ensures that your outdoor kitchen not only stands the test of time but also ages gracefully.
The materials we employ, from robust stones to stainless steel, are chosen for their proven resilience and aesthetic appeal. We meticulously ensure that each component, from the construction framework to the finishing touches, adheres to exemplary standards of quality and durability.
Seamless Integration with Outdoor Living Spaces
Your outdoor kitchen is intricately woven into the tapestry of your outdoor living space, ensuring that it complements other elements like swimming pools, patios, and landscapes. The culinary space becomes an integral part of the outdoor narrative, facilitating easy transition from cooking to dining to relaxation, all within a cohesive spatial design.
Your Culinary Oasis Awaits
LUXE Outdoor Living is devoted to crafting outdoor spaces that embody luxury and functionality. Our outdoor kitchens are no exception, standing as testaments to our dedication to superior design, quality, and client satisfaction.
Let us sculpt your outdoor kitchen, where culinary adventures unfold under the boundless sky, and every meal is accompanied by a gentle breeze and the tranquility of nature. Your journey toward exquisite outdoor dining experiences begins with LUXE Outdoor Living, where your visions are transformed into tangible luxury.
---
Find the information you need? Then fill out our Free Consultation form and one of our representatives will contact you to discuss your needs. Still have questions? Please do not hesitate to reach out to us. At LUXE Outdoor Living, we are always at your service to address any inquiries or reservations you might hold. For Fastest Service, Call us today at 513-638-1039.