Pool Safety Fencing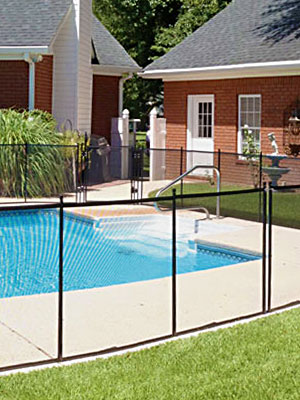 The serenity and leisure offered by a private pool space are unparalleled, and at LUXE Outdoor Living, we're dedicated to ensuring that your tranquil retreat is synonymous with safety and peace of mind. Pool safety fencing is not only a prudent safety measure but also an element that, when executed correctly, seamlessly melds with the aesthetics of your outdoor space.
A Fusion of Safety and Design
Incorporating a safety fence into your pool area should not compromise the visual appeal and overall design of your space. The LUXE team harmonizes the essential safety function of pool fencing with the existing aesthetic of your outdoor environment, ensuring that this practical element enhances, rather than detracts from, your outdoor design.
Tailored Safety Solutions
Your pool and surrounding space are unique, and as such, demand a customized approach to safety fencing. Our team considers factors like pool shape, size, proximity to dwelling areas, and landscape features to develop a safety fence design that is both effective and unobtrusive. From materials to color palettes, every aspect is thoughtfully chosen to serve safety without sacrificing style.
Premium Materials and Installation
At LUXE Outdoor Living, we utilize premium materials known for their durability, resistance to weather conditions, and aesthetic versatility. Our expert installation ensures that your pool safety fence is securely anchored, durable, and consistent with all safety regulations and guidelines, providing you with a reliable safety barrier that stands the test of time and elements.
Discrete yet Effective Barrier
The aim is to establish a barrier that safeguards but does not dominate the aesthetic of your pool space. Our designs emphasize creating a discrete yet effective boundary, safeguarding the area without imposing a visual impediment. The LUXE approach ensures that the fencing integrates subtly into your landscape, maintaining the open and leisurely ambiance of your outdoor area.
Safety, especially in leisure and relaxation zones, should be implicit; a subtle guardian that does not obtrude into your moments of peace and enjoyment. LUXE Outdoor Living encapsulates this philosophy in our pool safety fencing solutions, curating an environment that is as secure as it is stunning. Safeguard your moments of tranquility with the unspoken assurance of our meticulously designed and installed pool safety fencing.
---
Find the information you need? Then fill out our Free Consultation form and one of our representatives will contact you to discuss your needs. Still have questions? Please do not hesitate to reach out to us. At LUXE Outdoor Living, we are always at your service to address any inquiries or reservations you might hold. For Fastest Service, Call us today at 513-638-1039.