Comprehensive Design Services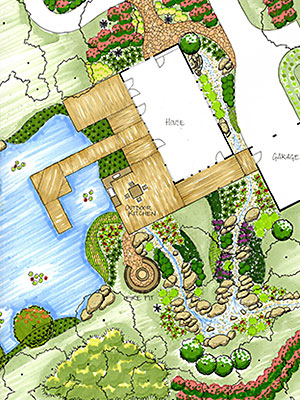 Achieve a harmony of function and aesthetics in your outdoor spaces with the comprehensive design services of LUXE Outdoor Living. Every project we undertake is imbued with a commitment to create harmonious, functional, and visually stunning outdoor environments that resonate with our clientele's lifestyles and preferences.
Tailor-Made Landscapes for Luxury Living
Your landscaping is the canvas upon which your outdoor masterpiece is created. We take pride in developing landscapes that serve as both a visual feast and a functional space, considering every element from plant selection to spatial arrangement, ensuring cohesiveness with both your property and your lifestyle.
Hardscaping: Structuring Your Outdoor Elegance
Our hardscaping designs thoughtfully interweave structural elements with your natural environment. From aesthetically pleasing and functional retaining walls to eloquent flagstone & paver patios, we create spaces where every step you take is firmly grounded in quality and elegance.
Unparalleled Swimming Pool Designs
LUXE offers a plunge into luxury with swimming pool designs that are both elegant and tailored to your outdoor space. Our designs integrate seamlessly into your landscape, providing a leisurely retreat or a vibrant entertainment space, with the added assurance of safety and efficiency through automatic pool covers and pool safety fencing.
Elevated Outdoor Living Spaces
We masterfully design outdoor living spaces that become natural extensions of your indoor environment. Integrating outdoor kitchens, fire pits & fireplaces, and meticulously crafted metal decks & pergolas, we provide settings that invite relaxation, entertainment, and an unbridled outdoor experience.
Comfort and Sophistication with Functional Elements
Your comfort and ease are at the forefront of our designs. Outdoor heating elements and saunas are woven seamlessly into your spaces, providing warmth and relaxation amidst your lavish surroundings. Outdoor sound systems and lighting are strategically incorporated, ensuring your environment is enriched with auditory and visual grace, all without compromising the aesthetic integrity of your space.
Ingenious Outdoor Kitchens
An outdoor kitchen from LUXE signifies a blend of functionality and social grace. We design these spaces with careful consideration to culinary requirements and social interaction, ensuring your gatherings are catered to with style and convenience.
Detail-Oriented Functional Installations
We approach functional elements with an uncompromising commitment to aesthetic consistency. Be it irrigation systems that nurture your landscape or drainage & regrading services that safeguard your spaces against water-related issues, every functional component is integrated with the utmost respect to your overall design.
Precision in Every Element
At LUXE, every design element is handled with precise attention to detail and an unwavering commitment to quality. Your project will be guided by experienced hands, ensuring that from the initial concept to the final realization, every aspect resonates with quality, functionality, and visual appeal.
With LUXE Outdoor Living, every component of your outdoor space is meticulously crafted to reflect your style while catering to your functional needs. Our comprehensive design services serve as the conduit through which your visions are translated into reality, ensuring your outdoor environments are nothing short of extraordinary. Partner with us to curate spaces that are truly a reflection of your aspirations and a testament to timeless, elegant design.
---
Find the information you need? Then fill out our Free Consultation form and one of our representatives will contact you to discuss your needs. Still have questions? Please do not hesitate to reach out to us. At LUXE Outdoor Living, we are always at your service to address any inquiries or reservations you might hold. For Fastest Service, Call us today at 513-638-1039.