Outdoor Sound Systems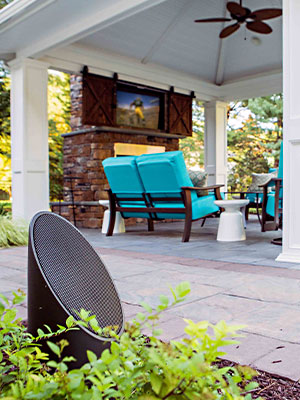 Navigating the delicate balance between technological excellence and aesthetic harmony, LUXE Outdoor Living introduces immersive outdoor sound systems that enhance the sensory appeal of your external environments.
Crafting Auditory Experiences
LUXE focuses on delivering rich, clear, and immersive sound experiences in your outdoor spaces while maintaining the visual integrity of your landscape design. Our audio solutions are discreet, harmoniously blending with your exterior aesthetics to provide an auditory experience that enhances without intruding.
Utilizing industry-leading audio technology, we engineer soundscapes that are crisp, clear, and capable of withstanding the variables of outdoor environments. The components are meticulously selected and placed to create an enveloping sound that gently fills the space without overwhelming the natural ambience of the outdoors.
Synchronized with Your Space
Ensuring the auditory experience moves seamlessly across your outdoor living spaces, our designs integrate sound systems that provide consistent and high-quality audio, whether you're lounging by the pool, dining al fresco, or wandering through your gardens.
Our designs prioritize uniform sound coverage, ensuring that every corner of your space is enveloped in a consistently rich and immersive audio experience. The goal is to create an unobtrusive sound that complements the natural auditory experiences of the outdoor world.
Discreet Design, Harmonious Sound
Preserving the visual aesthetics of your landscape is paramount. Thus, the integration of sound systems into your outdoor spaces is executed with subtlety and precision. Speakers and audio components are carefully concealed within the landscape or designed to mimic natural elements, ensuring they merge seamlessly with their surroundings.
Your audio experience becomes a hidden layer within your outdoor space, providing rich sound without distracting from the visual appeal of your landscape.
Easy Control and Integration
Intuitive control interfaces allow you to effortlessly navigate your audio experiences, adjusting volumes, and selecting tracks with ease. Systems can be integrated with smart home technologies, offering you the convenience of controlling the soundscapes from your devices or centralized control units.
Your outdoor sound becomes an extension of your living space, effortlessly managed and tailored to suit your preferences and moods.
Immerse in Elevated Experiences
LUXE Outdoor Living extends an invitation to delve into enhanced sensory experiences in your exterior environments. Our outdoor sound systems offer a discreet yet potent auditory layer, enriching your moments spent under the open sky.
Let us explore the potential of your spaces together, crafting soundscapes that elevate and enchant, providing a gentle auditory embrace that enhances every moment spent in your outdoor havens. LUXE is here to navigate the intricacies of technology and design, ensuring your outdoor environments are places of rich, sensory delight, seamlessly blending the technological with the natural.
---
Find the information you need? Then fill out our Free Consultation form and one of our representatives will contact you to discuss your needs. Still have questions? Please do not hesitate to reach out to us. At LUXE Outdoor Living, we are always at your service to address any inquiries or reservations you might hold. For Fastest Service, Call us today at 513-638-1039.