Fire Pits & Fireplaces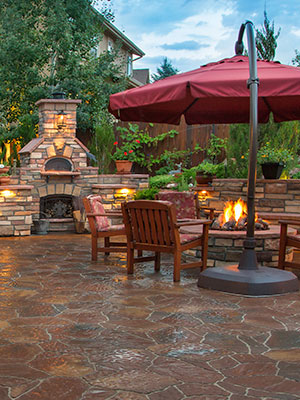 Transform your outdoor spaces into cozy gathering spots with our meticulously crafted fire pits. At LUXE Outdoor Living, we understand that fire pits are more than just functional elements; they're pivotal points where moments are shared and memories are forged. Our custom-made fire pits anchor your outdoor spaces, creating an inviting ambiance that encourages connection, contemplation, and intimate conversations beneath the stars.
Tailor-Made Designs for Exclusive Experiences
Your fire pit should be as unique as your outdoor space. That's why our focus is on creating designs that align seamlessly with your style and spatial requirements. By harmonizing elements like size, shape, and material, we ensure your fire pit naturally integrates with its surroundings, providing visual and social elegance in your outdoor living areas.
Outdoor Fireplaces: A Blend of Grandeur and Comfort
An outdoor fireplace introduces a structural and aesthetic magnitude to your open-air spaces, offering a source of physical warmth and acting as a majestic centerpiece for leisurely evenings and social gatherings.
Uniting Aesthetics and Functionality
LUXE Outdoor Living prides itself on crafting outdoor fireplaces that blend detailed design with functional aesthetics. Each creation reflects your personal style and complements the aesthetic essence of your space, spanning a range of expressions from classic to modern. Every fireplace we build embodies architectural integrity and durable elegance.
Selecting Premium, Durable Materials
Our material selections are thoughtfully curated to intertwine visual beauty with lasting sustainability. We choose materials that not only stand up to the elements but also age gracefully, ensuring that your fire features continue to enrich your spaces through the years.
Safety Merged with Elegant Design
Every fire feature crafted by LUXE adheres strictly to safety and regulatory norms. By incorporating fire-resistant materials, ensuring appropriate clearances, and embedding safeguards within the design, we deliver a safe and enchanting fire experience without compromising visual appeal.
Enriching Your Outdoor Experiences with Flames
Choosing LUXE Outdoor Living is more than a design choice; it's a step into crafting not merely spaces, but experiences, memories, and moments illuminated by the gentle light of your custom fire pit or fireplace. Imagine a space where each flame tells a story, every gentle crackle of the wood intertwines with the tranquility of the night, and warmth permeates your conversations and solitary moments, reflecting understated, graceful luxury.
We are dedicated to translating your visions into tangible, luxurious outdoor spaces, extending your home's elegance into the outdoors under the expansive, starry sky. Allow us to ignite your exterior spaces with fire features that serve as both architectural artifacts and timeless venues where life unfolds gracefully around the warmth.
---
Find the information you need? Then fill out our Free Consultation form and one of our representatives will contact you to discuss your needs. Still have questions? Please do not hesitate to reach out to us. At LUXE Outdoor Living, we are always at your service to address any inquiries or reservations you might hold. For Fastest Service, Call us today at 513-638-1039.