Hardscaping Services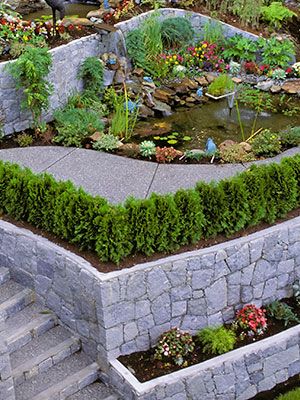 In the realm of luxury outdoor living, LUXE articulates a narrative where form and function converge into a seamless blend of beauty and utility. Hardscaping, an integral facet of landscape design, encapsulates this philosophy by transforming your outdoor spaces into structured, elegant, and livable art.
Uncompromising Quality, Artful Execution
LUXE Outdoor Living infuses every project with a commitment to quality, embedding endurance, and aesthetic appeal into every facet of our hardscaping endeavors. Our structured outdoor environments, from the elegant pathways underfoot to the structured walls that carve out intimate spaces, are crafted with meticulous attention to detail and a keen eye for timeless design.
Retaining walls, often considered purely functional elements, are envisioned by LUXE as not merely supportive structures but as sculptural forms that add tiered elegance to your outdoor spaces. We weave the necessity of these elements with the intrinsic beauty of high-end materials, ensuring they serve dual purposes of practicality and visual appeal.
Likewise, our patios and walkways are more than mere passages or leisure spaces. Employing premium materials, such as flagstone and pavers, we curate surfaces that invite interaction and appreciation, guiding your journey through the orchestrated beauty of your outdoor landscape. Every step is considered, ensuring pathways not only connect spaces but also narrate a story, guiding guests through the lush tranquility of your outdoor oasis.
A Sanctuary of Elegant Leisure
When your outdoor space seeks to become a sanctuary of leisure and entertainment, our custom-designed elements like outdoor kitchens and fireplaces become the heart of your gatherings. LUXE designs these spaces to be as functional as they are beautiful, creating environments where culinary exploration and warm conversations naturally unfold under the open sky.
Our fireplaces and fire pits become focal points of togetherness, where the gentle crackling of logs and the soft glow of embers underpin memories in the making. We integrate these elements in a way that they not only provide warmth but also enhance the aesthetic and atmospheric charm of your outdoor living areas.
The embodiment of serenity can be found in our water features, where the gentle caress of water not only provides a soothing auditory backdrop but also introduces a fluid, tranquil aesthetic to your surroundings. From cascading fountains to reflective ponds, these elements are seamlessly integrated to offer peace and repose amidst your tailor-made landscape.
Thoughtful Integration, Tailored to You
Drainage and regrading, while vital for the longevity of your outdoor spaces, are implemented by LUXE with a subtle hand, ensuring the necessary practicalities are addressed without compromising aesthetic intent. Our expertise ensures that each necessary functional element is integrated thoughtfully, maintaining the visual and experiential quality of your landscape.
At LUXE Outdoor Living, your outdoor spaces are not just designed; they are intricately crafted, with each hardscape element seamlessly interwoven to create a comprehensive, immersive experience. We invite you to explore the possibilities with LUXE, where every detail is a testament to quality and every finished project a masterful blend of luxury and livability.
---
Find the information you need? Then fill out our Free Consultation form and one of our representatives will contact you to discuss your needs. Still have questions? Please do not hesitate to reach out to us. At LUXE Outdoor Living, we are always at your service to address any inquiries or reservations you might hold. For Fastest Service, Call us today at 513-638-1039.