Outdoor Saunas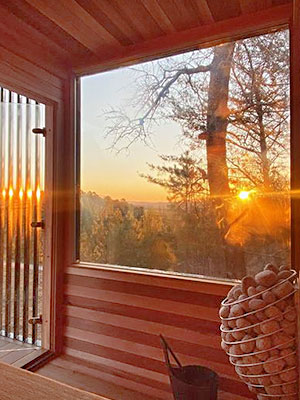 Creating a personal oasis in the privacy of your outdoor space means merging wellness, luxury, and nature into a seamless experience. LUXE Outdoor Living specializes in the design and installation of outdoor saunas, offering you a tranquil retreat that interweaves with the natural beauty of your surroundings.
A Sanctuary of Wellness in Your Backyard
Outdoor saunas provide not just a unique wellness benefit, but also create a distinct, peaceful space where the tranquility of the outdoors enhances your relaxation and health practices. Your sauna becomes a place where stress relief and nature converge, where each moment is dedicated to your well-being amid the soothing embrace of curated landscapes.
Holistic Approach to Sauna Design
LUXE endeavors to transform your outdoor spaces into wellness retreats that serve as extensions of your living areas. Our designs are carefully molded to complement your existing outdoor aesthetics, ensuring that your sauna not only offers prime functionality but also acts as a cohesive element within your landscape. The architecture, materials, and spatial flow are meticulously crafted, ensuring your sauna space feels organically integrated with its surroundings.
Customized Wellness Spaces
Each individual has unique wellness preferences, and we craft our saunas to reflect yours. From the choice of wood, heating elements, and spatial design, to incorporating additional features like chromotherapy or audio systems, every detail is considered and tailored to create your ideal sauna experience. The result is a tailor-made wellness environment where every aspect is tuned to your preferences and requirements.
Bridging Aesthetics and Functionality
Our outdoor saunas are not merely functional installations but also aesthetic elements within your landscape. The design phase involves a thorough understanding of your outdoor space, ensuring that the sauna adds visual value and adheres to a seamless visual flow. Your sauna becomes a focal point that intrigues and invites, a delightful synergy of form and function.
Enduring Quality for Lasting Experiences
Quality is an uncompromising pillar in our sauna projects, ensuring that materials, construction, and design all stand resilient against time and elements. Every sauna we create is designed to withstand the rigors of outdoor conditions, ensuring that your wellness space remains an enduring, reliable sanctuary through every season.
Experience Tranquil Luxury with LUXE
The journey towards your personal outdoor wellness retreat begins with envisioning and understanding your aspirations. LUXE Outdoor Living is dedicated to translating these aspirations into tangible luxury, crafting outdoor saunas that are both sanctuaries of wellness and integral parts of your luxurious outdoor living experience.
Immerse yourself in a world where your wellness and luxury coalesce, and where your outdoor spaces become sanctuaries of tranquility and rejuvenation. LUXE Outdoor Living awaits to guide you through this transformation, crafting experiences that are as rich and individual as you are.
---
Find the information you need? Then fill out our Free Consultation form and one of our representatives will contact you to discuss your needs. Still have questions? Please do not hesitate to reach out to us. At LUXE Outdoor Living, we are always at your service to address any inquiries or reservations you might hold. For Fastest Service, Call us today at 513-638-1039.