Swimming Pool Services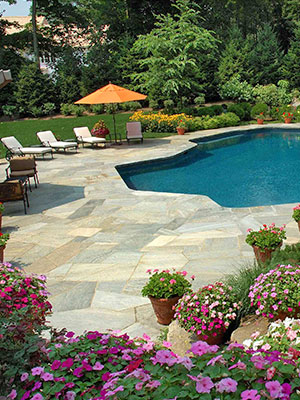 Enrich your outdoor environment with a swimming pool that is not only a vibrant center of leisure but also a reflection of your discerning taste. At LUXE Outdoor Living, we meticulously design and install swimming pools that become synonymous with elegance, ensuring that every component aligns perfectly with your expectations and our exacting standards.
Tailor-Made Swimming Pools for Discerning Lifestyles
Our process is deeply rooted in understanding your needs and delivering a pool that becomes a natural extension of your living space. Every project begins with a thorough consultation to grasp your preferences, spatial requirements, and desired functionality. This foundational knowledge guides our design phase, where we shape a pool that effortlessly fits into your outdoor landscape.
Quality of build is paramount at LUXE, and this principle is apparent in every aspect of our pool installation. We utilize premium materials and advanced building techniques to ensure that your pool is not only a visual masterpiece but also a long-lasting addition to your property. From the initial excavation to the final touches, our team works with precision and dedication to bring your vision to life.
Efficient Design and Sustainable Practice
A LUXE pool is synonymous with intelligent design and sustainability. Beyond the surface, our pools are engineered to be energy-efficient and low maintenance, integrating the latest in filtration technology and sustainable water management. We are dedicated to ensuring that our pools are not only stunning to behold but also economically and ecologically responsible.
The decking and surrounding areas are designed with equal consideration, ensuring they not only enhance the pool but also provide functional, elegant spaces for relaxation and entertainment. We consider how each element, from poolside patios to lounging areas, coexists to create a cohesive, luxurious outdoor environment.
Automatic Pool Covers: A Confluence of Safety and Efficiency
In the latter stages of our design and installation process, attention turns to the functional and safety aspects of your pool, with a particular focus on automatic pool covers. An often-overlooked component, the automatic pool cover is integral to maintaining the pristine condition of your pool while ensuring it remains a safe environment.
At LUXE Outdoor Living, our automatic pool covers are designed to be a subtle, yet effective component of your pool. With the push of a button, your pool can be safely and securely covered, protecting it from debris and reducing the need for cleaning and chemical treatments. Additionally, a covered pool loses less heat, conserving energy and maintaining a more consistent water temperature.
Our automatic pool covers also serve a vital role in providing a safe environment, particularly in households with children and pets. The sturdy, unobtrusive design provides a reliable barrier, giving you peace of mind when the pool is not in use.
Choosing LUXE Outdoor Living for your swimming pool design and installation ensures a balance of aesthetic beauty, tailor-made design, and pragmatic functionality. Allow us to curate an outdoor environment where luxury, safety, and efficiency coexist in harmonious unity, elevating your property to new heights of elegance and comfort.
---
Find the information you need? Then fill out our Free Consultation form and one of our representatives will contact you to discuss your needs. Still have questions? Please do not hesitate to reach out to us. At LUXE Outdoor Living, we are always at your service to address any inquiries or reservations you might hold. For Fastest Service, Call us today at 513-638-1039.