Flagstone & Paver Patios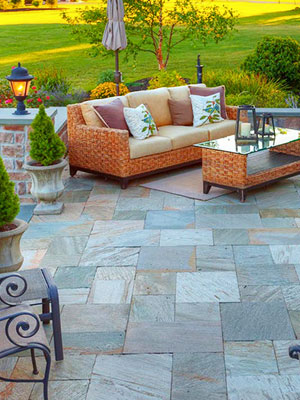 Elegance, durability, and tailored designs converge in the exquisite outdoor environments crafted by LUXE Outdoor Living. Your outdoor living space is not merely an extension of your home, but a testament to your lifestyle and aesthetic preferences. Our expertise in developing flagstone and paver patios embodies this principle, intertwining functionality with high-end design to create spaces that are as enduring as they are beautiful.
Authentic Elegance with Flagstone Patios
Flagstone patios deliver a natural, rugged beauty that effortlessly intertwines with the outdoor environment. The distinct, irregular shapes and rich, earthy tones of flagstone generate a textured and organic visual appeal, aligning flawlessly with varied architectural and design themes. Flagstone, while presenting a timeless aesthetic, also offers durability, maintaining its beauty through varying seasons and usage.
Paver Patios: Precision and Customization
Pavers, on the other hand, introduce a wide spectrum of design possibilities with their myriad shapes, colors, and patterns. The flexibility in design offered by paver patios allows them to complement various outdoor themes, from the classic and rustic to the modern and contemporary. Beyond their aesthetic appeal, paver patios are renowned for their durability and minimal maintenance needs, standing resilient amidst diverse weather conditions and usage.
Craftsmanship in Installation
The LUXE Outdoor Living team dedicates itself to implementing an installation process that prioritizes longevity and visual harmony. Beneath the surface beauty of each stone and paver lies a meticulously prepared and leveled foundation, ensuring stability, minimizing shifting, and mitigating settling over time. Our experts are adept at ensuring each stone is securely laid, safeguarding both the aesthetic and structural integrity of your patio.
Seamless Integration into Your Outdoor Space
Whether opting for the natural variance of flagstone or the customizable elegance of pavers, our approach at LUXE is to weave this foundational element seamlessly into the larger tapestry of your outdoor space. Every patio serves not only as a durable surface but as a cohesive unit that harmoniously integrates with surrounding landscaping, outdoor structures, and the architectural ethos of your residence.
In entrusting LUXE Outdoor Living with your project, you engage with a team that views every outdoor space as an opportunity to create not just a visual spectacle, but a canvas where memories are made, and moments are cherished. Let the ground beneath your feet be not just a surface, but a statement of quality and elegance, with flagstone and paver patios by LUXE.
---
Find the information you need? Then fill out our Free Consultation form and one of our representatives will contact you to discuss your needs. Still have questions? Please do not hesitate to reach out to us. At LUXE Outdoor Living, we are always at your service to address any inquiries or reservations you might hold. For Fastest Service, Call us today at 513-638-1039.