Outdoor Living Spaces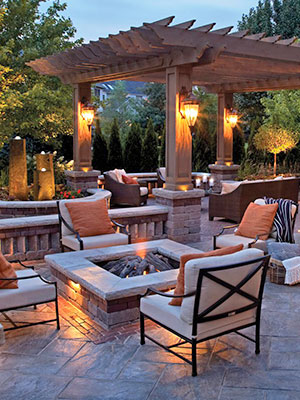 Crafting the epitome of opulent outdoor living spaces, LUXE Outdoor Living ensures each element, from landscaping to structural details, aligns seamlessly with your aspirations and the aesthetic essence of your property. Our approach to design, whether for cozy private nooks or expansive outdoor entertaining, integrates every feature harmoniously into a comprehensive, luxurious exterior environment.
Integrating Lush Landscaping into Living Spaces
Flourishing landscapes form the backbone of our outdoor living spaces, offering a serene and lush backdrop that enhances your relaxation and entertainment experiences. Tailor-made landscaping solutions ensure that each planting, from grassy expanses to curated gardens, harmonizes naturally with your overall design aesthetic and functional requirements.
Structural Elegance through Hardscaping
Hardscaping brings to life the structural elements that define your outdoor spaces. This includes constructing aesthetically and functionally superior retaining walls, and developing expansive flagstone & paver patios that provide both utility and a luxurious underfoot
experience. Our expertise ensures that each hardscaping element not only bolsters the functionality of your space but also serves as a visual cornerstone, enhancing the overall elegance of your outdoor environment.
Swimming Pools: A Sanctuary of Relaxation
Our meticulously designed swimming pools serve as a tranquil oasis, offering both relaxation and a vibrant space for entertaining. Every pool is designed with consideration to its surroundings, ensuring a harmonious blend with both the natural and built elements of your outdoor space.
Exquisite Outdoor Kitchens
Blending functionality with aesthetic appeal, our outdoor kitchens provide a stunning yet practical setting for culinary creation and social gatherings. Each design ensures that while your culinary endeavors are effortlessly supported, the social and aesthetic aspects of your space remain undisturbed and continuously inviting.
Outdoor Heating and Fireplaces: Warmth Amidst Luxury
Integrating outdoor heating elements, fire pits, and fireplaces, we craft spaces that invite year-round enjoyment. Each source of warmth is not simply a functional addition but is masterfully incorporated as a focal point, enhancing the ambiance and utility of your outdoor living space.
Sound and Light: Enhancing Atmosphere
With strategically placed outdoor lighting and seamlessly integrated sound systems, your outdoor space is bathed in a gentle, inviting glow and enriched with crisp, clear audio. These elements are carefully considered to enhance both the visual and auditory experience of your outdoor environment without intruding upon its natural serenity.
Craftsmanship in Metal Decks & Pergolas
Our metal decks and pergolas are crafted to provide structural integrity, shade, and a refined aesthetic to your outdoor living space. Each structure is designed to blend seamlessly with its surroundings, ensuring that it provides both the practicalities of shelter and an elegant aesthetic complement to your property.
Crafting Outdoor Living Masterpieces
At LUXE Outdoor Living, we believe that each outdoor living space should be a reflection of its owner's aspirations, needs, and stylistic preferences. Our methodological approach ensures that every element, from structural hardscaping to atmospheric lighting, is integrated with both aesthetic and functional precision. We meticulously weave together each component, ensuring your outdoor living space is not only a visual masterpiece but also a functional environment that can be lived in and enjoyed throughout the seasons.
Entrust your vision to us and watch as we transmute your outdoor space into a living, breathing tableau of luxury and functionality, where every gathering becomes an event, and every quiet moment becomes an intimate escape into your personal haven of luxury and tranquility. Let's shape the future of your outdoor living – a future where every day offers a luxurious escape, right in the comfort of your own home.
---
Find the information you need? Then fill out our Free Consultation form and one of our representatives will contact you to discuss your needs. Still have questions? Please do not hesitate to reach out to us. At LUXE Outdoor Living, we are always at your service to address any inquiries or reservations you might hold. For Fastest Service, Call us today at 513-638-1039.