Irrigation Systems & Drainage Solutions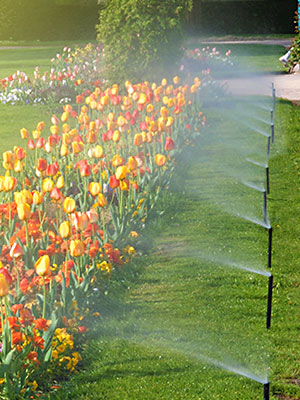 LUXE Outdoor Living proudly presents comprehensive services in the vital domains of irrigation systems, drainage solutions, and regrading to ensure the enduring health and vitality of your outdoor spaces.
Strategic Irrigation for Healthy Landscapes
A robust and vibrant landscape is invariably underpinned by an efficient irrigation system that judiciously provides adequate water to every vegetative element. Our experts at LUXE Outdoor Living meticulously design irrigation systems that effectively cater to the distinct needs of your landscaping elements.
Your landscape is a symphony of diverse vegetation, each with unique hydration needs. We engineer our irrigation systems to respect these individual requirements, ensuring that every plant, from the lush lawn to the tallest tree, receives optimal hydration. By fostering a flourishing environment, we not only bolster the health and aesthetic appeal of your green spaces but also ensure the longevity and vitality of your landscaping investment.
With a LUXE irrigation system, you're investing in:
Optimized Water Utilization: Minimize water usage while ensuring each plant receives requisite hydration.
Automated Convenience: Schedule watering to conveniently, and consistently sustain your landscape.
Enhanced Plant Health: Encourage vibrant growth and resilience in your greenery through regulated watering.
Ensuring Aesthetics Through Adequate Drainage
Water, while fundamental to life, can present challenges when it comes to maintaining the pristine condition of your outdoor spaces. Effective drainage systems are pivotal in safeguarding your landscape against potential water damage and ensuring that every aspect of your outdoor living area remains visually and functionally impeccable.
Our team applies their comprehensive expertise to formulate drainage solutions that seamlessly integrate with your existing landscape and architectural elements, navigating the dual necessities of utility and aesthetic integration. This precise, custom approach ensures that effective drainage and aesthetic appeal are treated with equal reverence and expertise.
Our drainage solutions promise:
Preserved Aesthetics: Safeguard your outdoor spaces against water damage and associated aesthetic challenges.
Proactive Problem Mitigation: Address water accumulation before it can undermine structural and plant health.
Synergy with Existing Design Elements: Our drainage solutions respect and enhance your existing design, ensuring functional and visual coherence.
Regrading for Functional and Visual Excellence
Regrading serves a dual purpose: directing water away from structures to prevent damage and shaping the land to enhance visual appeal. At LUXE Outdoor Living, regrading is not merely a technical service but an art, where we sculpt the land to coalesce visual appeal and functional efficiency harmoniously.
Your landscape is viewed through a lens that unites design with functionality, ensuring that regrading efforts serve both pragmatic and aesthetic purposes. Our expert team evaluates the existing topography, identifies areas of potential water pooling, and strategically redefines land contours to elegantly direct water flow while enhancing the visual dynamism of your outdoor spaces.
Through LUXE's regrading services, you'll experience:
Enhanced Landscape Longevity: By guiding water away from structures and vulnerable areas, we prolong the life and beauty of your landscape.
Visual Elevation: Our strategic regrading serves to enhance the aesthetic architecture of your outdoor space.
Tailored Solutions: Every landscape is unique, and our regrading solutions are meticulously customized to respect and enhance each individual space.
Our unified approach to irrigation, drainage, and regrading at LUXE Outdoor Living ensures that your exterior environments are not only beautiful but are also constructed with a foundational robustness that guarantees longevity and sustained aesthetic appeal. Engage with us and explore a world where your outdoor spaces are a perfect amalgamation of resilient quality and visual excellence.
---
Find the information you need? Then fill out our Free Consultation form and one of our representatives will contact you to discuss your needs. Still have questions? Please do not hesitate to reach out to us. At LUXE Outdoor Living, we are always at your service to address any inquiries or reservations you might hold. For Fastest Service, Call us today at 513-638-1039.