Outdoor Lighting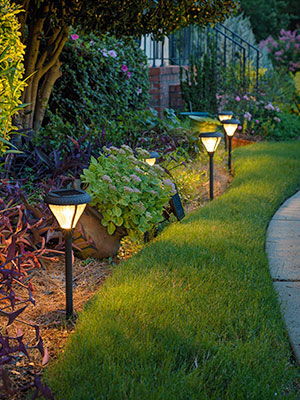 At LUXE Outdoor Living, we illuminate your outdoor spaces with a blend of functionality and aesthetics, sculpting your surroundings with thoughtfully designed outdoor lighting that elevates every moment spent under the night sky.
Unveiling Elegance Through Light
Carefully curated outdoor lighting does more than simply illuminate your exterior spaces. It crafts ambiance, highlights architectural details, and enhances safety. Our expert team designs and installs lighting solutions that skillfully balance practical illumination with the subtle artistry of light, ensuring every fixture and placement serves a dual purpose of function and aesthetic appeal.
Meticulous Placement for Optimal Illumination
Understanding that every outdoor space has its unique features and focal points, our designs thoughtfully position lighting to enhance and elevate these aspects. Strategic illumination accentuates structural details, softly highlights landscaping elements, and ensures well-lit pathways and functional areas, weaving a tapestry of light that is both secure and enchanting.
A Palette of Ambient Possibilities
Our approach considers the many moods and functionalities your outdoor spaces will serve. From lively gatherings and serene evenings to ensuring secure steps on paths and stairways, our lighting designs encapsulate a broad spectrum of ambient needs. The selection of fixtures, tones, and brightness levels are tailored to your preferences, offering a wide array of customizable options that resonate with your desired outdoor experiences.
Resilience in Every Glow
LUXE Outdoor Living places paramount importance on the durability and reliability of your outdoor lighting solutions. Utilizing materials and technologies that stand resilient against diverse weather conditions, our lighting installations ensure consistent performance and enduring aesthetic appeal, safeguarding your investment and preserving the envisioned ambiance through time.
Integrated Control for Ease and Comfort
Your lighting environment will be at your fingertips with integrated control systems, allowing for effortless management of illumination levels and configurations. Adapting your outdoor ambiance to match your activities and moods becomes a seamless experience, where your exterior lighting complements and responds to your living patterns with grace.
Illuminate with LUXE
Guided by a philosophy that intertwines functionality with subtle elegance, LUXE Outdoor Living crafts outdoor lighting solutions that illuminate your spaces with both purpose and artistry. Our commitment is to elevate your nocturnal outdoor experiences, intertwining light and shadow in a dance that enriches your external environments.
Allow us to light the way towards a landscape that gleams with impeccable design, ensuring every moment in your outdoor spaces is bathed in just the right amount of light, tailored meticulously to your needs and aesthetic preferences.
---
Find the information you need? Then fill out our Free Consultation form and one of our representatives will contact you to discuss your needs. Still have questions? Please do not hesitate to reach out to us. At LUXE Outdoor Living, we are always at your service to address any inquiries or reservations you might hold. For Fastest Service, Call us today at 513-638-1039.